The Platform Designed to Help Businesses Thrive.
No matter what you sell or how you sell it, Clover lets you accept
credit cards from customers safely and securely.
All Clover products are EMV ready.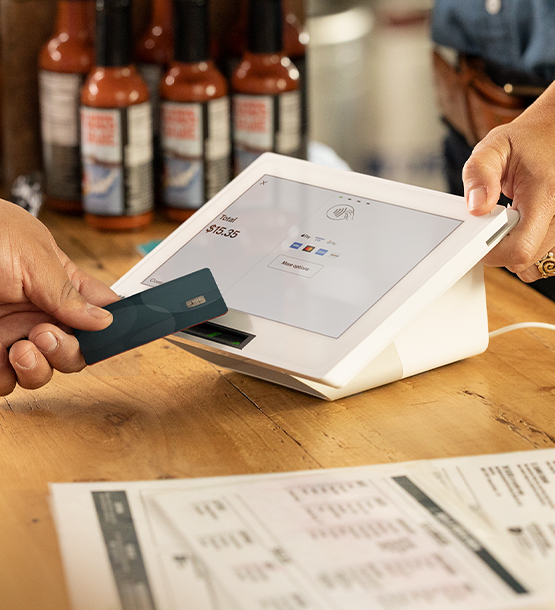 Why Clover?
Adapts to your setup requirements
Simple to use
Evolves with your business
Increased customer loyalty
Additional accessories Available
Cloud-based access for total control
State-of-the-art security features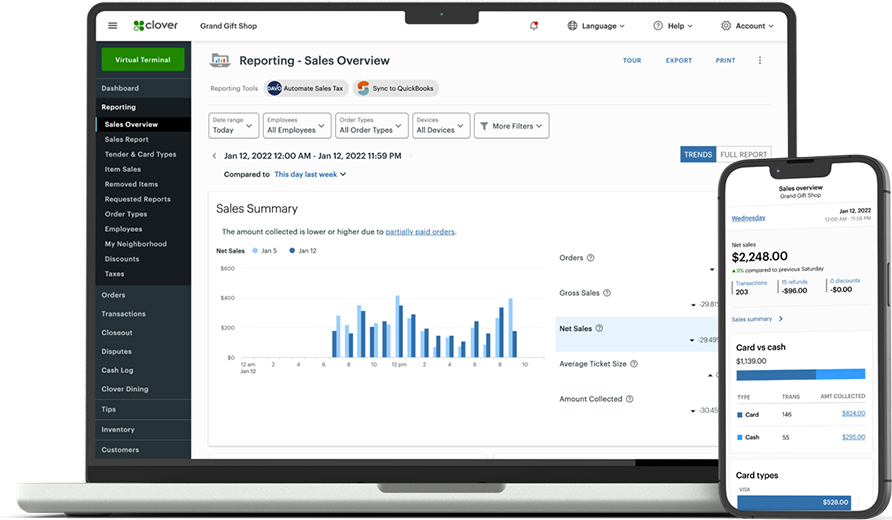 Clover Apps & Analytics
Clover comes pre-configured out of the box, but we don't stop there. Since it was built on an open platform, your business can expand its capabilities by downloading apps and features from the Clover App Marketplace. Tap into the growing community of developers who are constantly adding new apps and features to the marketplace to streamline business operations.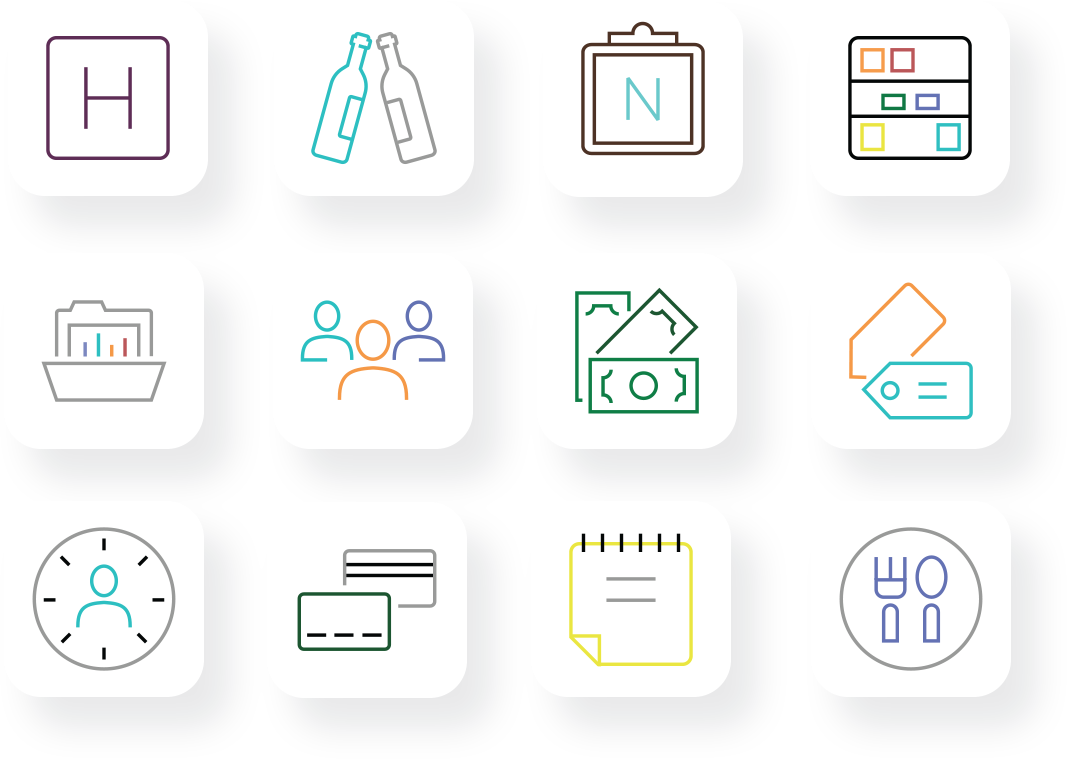 Hundreds of Clover Apps
Clover starts with the basics and takes your business even further with the App Market. Apps are broken down by functional categories and vertical to add merchant relevant value.
By Function
CRM & Customer Engagement
Employee Management
Loyalty & Promotion
Inventory & Order Management
Reporting & Analytics
Back Office & Accounting
By Vertical
QSR & FSR
Retail
Services
Coffee Shop
Food Truck
Bar
Hardware
Clover Station
14" HD Swivel Screen
Integrated EMV chip reader
Biometric fingerprint login for up to 20 employees
Supports existing Clover peripherals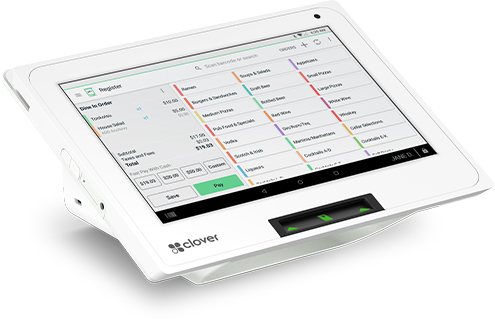 Clover Mini
Fixed countertop use case (+ portable)
7" screen (same form factor as mobile)
EMV, NFC, Swiped card/ PIN debit
Front facing camera and microphone
Wi-Fi Only / Wi-Fi + 3G/Ethernet via hub
Bluetooth/Audio jack/4 USB via hub
Barcode scanner via camera
Embedded printer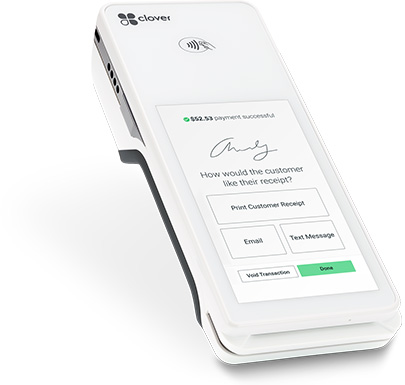 Clover Flex
Payments accepted: Magstripe, EMV smartcard, EMV contactless (including Apple Pay)
Security certification: PCI PTS 5.0
5" HD screen (1280 x 720 pixels)
Responsive capacitive touchscreen for e-signature and PIN entry
2 ¼-inch printer accepting rolls of receipt paper up to 50 ft. long
1D/2D barcode scanning with a dedicated button
Camera
Connectivity: Wi-Fi optional 3G plan
Lithium-ion 7.6V/21000mAh with fast battery charging on Clover Flex cradle (included)
Lightweight (1 lb.)
Clover Mobile
Mobile Use Case
7" screen (same form factor as Mini)
EMV, NFC, Swiped cards/PIN debit
Front facing camera and microphone
Wi-Fi + 3G / no Ethernet
Bluetooth and Audio Jack
Barcode scanner "gun"
Optional charging dock and mobile printer
Point-of-Sale Features
What you get with Clover Point-of-Sale.
Accessories
Add on top accessories including keypad, scale, label makers, cash drawers, and more for a more customizable platform.
Security
State-of-the-art security features are embedded into each platform for secure payment processing.
Easy-to-Use
Each platform is designed for intuitive setup and adaptability to your setup requirements, making it simple for employees to start using.
Device
Connectivity
Manage offering changes and sync across all devices in real time
Payments
Summary
See reporting by tender, card type, cash reports, and employee breakdown.
Dashboard
& Reporting
Access data by cash entries, date, employee, reason code, and order ID.
Item
Summary
View reports by category or item, quantity, revenue modifiers, and discounts.
Order
snapshot
Get a clear look at order volume by date range, total orders, average order, items per order, and tax and tender.
Export Data
Review employee time cards, metrics, transaction reports, inventory management, custom discounts and tender types, and access app marketplace.